6 Reasons Why You Should Buy Your Man a Sex Doll
August 29, 2023
2023-08-29 17:04
6 Reasons Why You Should Buy Your Man a Sex Doll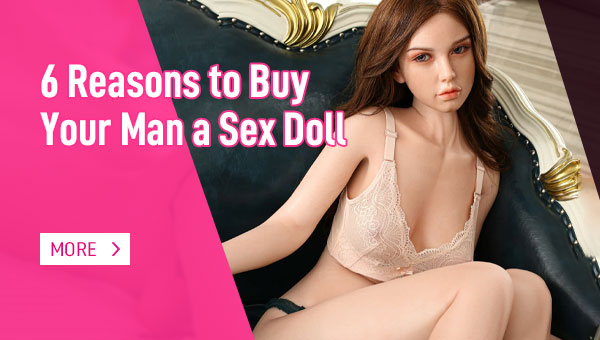 6 Reasons Why You Should Buy Your Man a Sex Doll
You've caught your man looking at sex doll ads. He may deny he isn't attracted to these human-like toys, but from the looks of it, you know he's not being honest. So, here's a question: should you buy your man a sex doll?
You might feel uncomfortable or intimidated by them, and it's reasonable. While your partner isn't with another woman, the fact he wants to have sex with something else can make you feel worried and even jealous. You're afraid he'll get obsessed with it and neglect you.
You're not alone, but let this article change your perception! This post will explain why you should get your man a sex doll. So, without further ado, let's begin the discussion.
Why You Should Buy Your Man a Sex Doll
First of all, you have nothing to fear from these dolls. As a matter of fact, they can help improve your relationship. But there are other reasons you should give your husband or boyfriend a sex doll:
1.Your Sex Doll Can Save the Day (or Your Relationship)
Not in the Mood for Sex? There are many reasons why you may not want to have sex with your man. It could be pregnancy, sickness, red days—or you're just not in the mood.
However, men generally have more sex drive than women. They want to have sex more than their female partners, which can cause friction between you and your man. He could get mad and mope around because you didn't give him what he wanted. You, on the other hand, would feel guilty—even if it wasn't your fault.
But if you buy your man a sex doll, this could have been prevented. A love doll can satisfy his sexual needs when you're not up for it. And even if you're not in the mood, it doesn't mean you won't enjoy watching him doing a hot girl. Who knows? It could be the ticket to rev up your sex drive.
2.You Don't Need to Worry About Cheating
Has your man cheated on you before—or maybe he hasn't, but you have an inkling feeling he would do it? You won't have to worry about your partner cheating on you with a sex doll! These pleasure goddesses are anatomically accurate and stunning. They have sexy bodies with bouncy breasts and realistic and functional vaginas and pussies.
Thus, he has no reason to look for another woman to satisfy his needs. A love doll is always to give in to his desires.
3.A Sex Doll Can Do What You Don't Want to Do
Just because you're married or living together doesn't mean you should do things you're uncomfortable with in sex. For instance, every man wants to bang their female partners' asses. But not all women aren't open to having anal sex. Either it's not their cup of coffee, or they have tried it before but had an unpleasant experience that they vowed not to do it again.
If you're one of those women, buying your man a sex doll would be great. It's a perfect substitute, as it's always up for anything. It will never say no and is ready for any kinky position and game.
4.There's No Risk of STDs
Even if men don't cheat by having another woman, some would pay for sex. Unfortunately, most men think hiring a sex worker isn't cheating, and this idea will put you both at risk of getting STDs. As a result, it can ruin your relationship and your life.
But if you buy your man a sex doll, you don't have to deal with this issue. A sex doll is safe and hygienic. This pleasure goddess needs to be washed up after each use. Hence, no bacteria, germs, or even sexually transmitted diseases can breed on it. Just be sure to use a water-based lube to extend its life.
5.A Perfect Solution for LDR Couples
Sometimes, certain circumstances can separate you from your partner. Either you or he must travel for work or have family commitments elsewhere. And—let's face it—being apart for long can take a toll on your relationship.
But if you buy your man a sex doll, it can bring you closer together even when you're apart. Get a sex doll and customize it based on your look. Plan a date night and have a video chat when you're apart. Create a steamy scene that both of you will enjoy.
6.A Sex Doll Can Fulfill Both Your Fantasies
It's completely normal and healthy for couples to indulge in fantasies once in a while. Some join swinger clubs or visit a dominatrix to satisfy each other's desires. Regardless of the erotic dreams you or your man may have, a deep desire needs to be fulfilled.
For instance, your man may have fantasized about having sex with a college girl, a secretary, or a nurse. Likewise, you have fantasized about watching your man having sex with another girl. All these erotic dreams will be fulfilled with a sex doll.
Buy your man a sex doll and dress it up in an outfit that will turn his wildest and kinkiest fantasies come true. And if one of your erotic dreams is to be a cuckquean, you can do so. It will be a great experience to see your husband or boyfriend having sex with another woman—or, in this case, a lifelike woman.
A Few Things to Keep in Mind
As you can see, there are many good reasons why you should buy your man a sex doll. However, there are a few rules you need to follow as best practices.
First, ensure your partner understands why you plan to buy him a sex doll—to be your substitute when you're not in the mood or incapable of having sex. Tell him you still desire him and have sexual needs you want him to fulfill.
Also, avoid using it other than sex. If you find your man taking the doll to the living room to watch TV or for a drive, it means there's a deeper problem that lies in your relationship. A sex doll should only be found and used at home. If someone sees your man doing these things, you'll never hear the end of it.