The Top 5 Features That Make Lifelike Sex Dolls Realistic
September 14, 2023
2023-09-14 15:04
The Top 5 Features That Make Lifelike Sex Dolls Realistic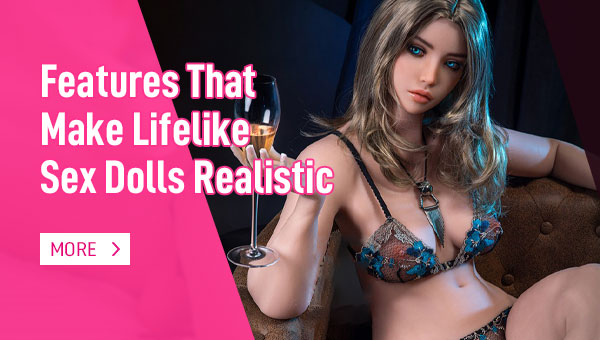 The Top 5 Features That Make Lifelike Sex Dolls Realistic
Imagine a sex doll with no shape, and the facial and body features were printed on its surface. Believe it or not, they existed. Pleasure seekers used inflatable sex dolls that were nowhere near realistic. They had to be blown up to see the poorly shaped body of a woman. Fortunately, this is just a thing of the past—thanks to the creation of lifelike sex dolls.
And the good thing about these dolls is that they are getting more realistic each year. Some beauties can now take and even have facial expressions from looking like real women. Others can even move their heads, allowing you to concentrate more on the pleasure than positioning them. It's no surprise why some doll owners fall head over heels with their synthetic companions.
When shopping for realistic sex dolls, there are certain features you need to pay close attention to besides the quality and the material used. This article will explore the top five elements that make lifelike sex dolls realistic.
Feature #1: The Face
A sex doll won't look authentic if the face doesn't emulate the looks of a real woman. So, when choosing a realistic sex doll, pay attention to how its face looks. Examine the skin, eyes, nose, and mouth. Don't forget the hair, too. If these facial and head features complement each other, they can create a sex doll that looks real.
If one of these facial elements seemed off, it would throw off the entire look of its face. Some sex doll manufacturers and sellers offer dolls asymmetrical facial features. Stay away from these beauties. Only choose lifelike sex dolls with symmetrical facial features.
Feature #2: Bodyweight
A sex doll's body weight is also a crucial factor to look for if you want a realistic love doll. You don't want to get a lightweight one because it won't give you authentic pleasure, just like how inflatable sex dolls feel. These pleasure tools are filled with air; hence, they are lightweight. They cannot give you the heavier feel that lifelike love dolls can provide.
Realistic adult dolls are not made of plastic or PVC. They are made of silicone or TPE (thermoplastic elastomer)—two materials that give an authentic feel and add weight to them. This weight ranges from 75 to 115 pounds, the average weight range of a real woman. So, if you examine a sex doll that stands 5 feet with a tiny waist, her weight is usually around that range. Thus, lifelike sex dolls with this weight range are ideal.
Feature #3: Breasts
One of the easiest ways to identify whether or not the sex doll looks realistic is through its breasts. Cheaply-made love dolls don't have perfectly shaped solid boobs; hence, you can check them out of your list. Higher-quality beauties have authentic-looking mounds with a size between a C-cup and a D-cup.
Like real women, lifelike sex dolls don't just have breasts with these sizes. Some are small-breasted dolls with A-cup and B-cup ranges. The choice of how plump your sex doll's breasts are lies in you.
Feature #4: Booty
You can have a realistic adult doll if it doesn't have a lifelike booty. An authentic-looking ass should be plump, firm, or jiggly, depending on how the beauty is made and customized. It needs to have some shape to make it appear natural. So, if your synthetic companion has a behind that resembles a real woman's bum, then you made the right choice.
Just like breasts, the size of lifelike sex dolls' asses varies. Some have flat butts, while others have big asses. Again, the choice of how thick your sex doll's ass is lies in you. Just don't choose a sex doll with a gigantic bum because it will compromise the realism of its look and feel.
Feature #5: Height
A realistic companion doll should have a lifesized height of about 140cm to 160cm. You can't see many sex dolls taller than those height ranges. But if you find sex dolls that stand 100cm and below, those are mini sex dolls.
Sex doll companies offer their beauties at various heights. Some of them include the exact size of the doll, while others don't. Thus, when looking for lifelike sex dolls, check their specs or dropdown height choices if you're planning to get a customized one. Doing so ensures you're getting a life-sized sex doll.
Bonus Feature: Artificial Intelligence and Robotics
As mentioned earlier, adult dolls are getting more authentic as the years go by. While you can still get the standard realistic companions, there are dolls equipped with artificial intelligence. These advanced human-like tools don't just have lifelike physical features but also authentic expressions. They can raise their eyebrows, blink, and open their mouths. 
That's not all; these state-of-the-art synthetic partners can move their heads, too! They can tilt and bow down. They can also strike up a conversation, whether sexual or non-sexual talks. It's like you have a person by your side. The only difference is that they're made by humans and from medical-grade materials.
Other than having realistic expressions and movements, AI sex dolls can turn up the heat, too, literally and figuratively. They have sensors that trigger this function when things get steamy in bed. However, some dolls let you adjust their warmth for a more realistic feel. Just look for the control keys to increase or reduce the heat.
Conclusion
The most realistic dolls would be the latest dolls with built-in artificial intelligence and heating sensors. There are a handful of sex doll stores selling such innovative, lifelike sex dolls. Remember, though, that the quality of their intelligence varies from manufacturer to manufacturer, depending on the cost. Of course, the more realistic their smart features are, the more expensive they get.
So, with all these advancements in creating realistic pleasure dolls, is there any point in having relationships with real women? For guys who cannot build relationships with people due to unavoidable circumstances, these latest innovations in lifelike sex dolls will improve their lives.